4 Innovative Backyard Trends To Create Your Outdoor Oasis
Backyards are often overlooked when it comes to outdoor design, but they can be just as stylish and inviting as any other outdoor space. The backyard is a great place to spend time with your family and friends, but it can get boring if you don't change things up every once in a while. Whether it's creating a space for entertaining guests or using your backyard as a mini garden, there are some small changes that can make a big difference in the overall feel of your outdoor living space. Here are 4 innovative trends that will give your backyard oasis some new life. 
1. Add an Outdoor Cooking Space
If you're looking to create an outdoor living space that's both functional and beautiful, consider upgrading your grill to a fully kitted-out outdoor kitchen. This will give your yard or patio an instant upgrade in terms of look and feel.
Grill season is upon us, and with it comes the need for some serious grilling action. You may already have a high-quality grill that works great for barbecues and parties, but what about when it comes time to cook up something more substantial like a whole chicken or extra large steaks? Upgrading your current outdoor kitchen by adding equipment like an outdoor pizza oven,  a BBQ Grill Island or even accessories like a smoker box will allow you to cook food faster and easier than ever before!
Outdoor Kitchen Islands are a great way to add space and functionality to your home. It's a great way to increase the value of your home and increase the enjoyment of your outdoor space with your family. It can also be used to create a focal point in your landscape. You'll also find that having an outdoor kitchen island is convenient when you have guests over, whether they come over just for dinner or to hang out all day. The ability to cook while still being able to entertain guests means that everyone has everything they need within reach—no more running back and forth between the grill and the table!
2. Create a Comfortable Outdoor Dining Area
Whether you have a large or small patio, there are many ways to create an outdoor area that is comfortable and inviting. Birthday celebrations, holiday get-togethers, family dinners, pizza, and barbeque parties are even much better outside with a comfortable outdoor dining area. Having a patio with a decent dining table can open up countless possibilities. 
When your backyard already has a pergola, turning it into an outdoor dining area makes it even simpler and easier to set up. If you don't own one yet, Patio Pelican provides an extensive range of products, including pergolas and gazebos that you can build fairly quickly and simply while suiting your style and needs.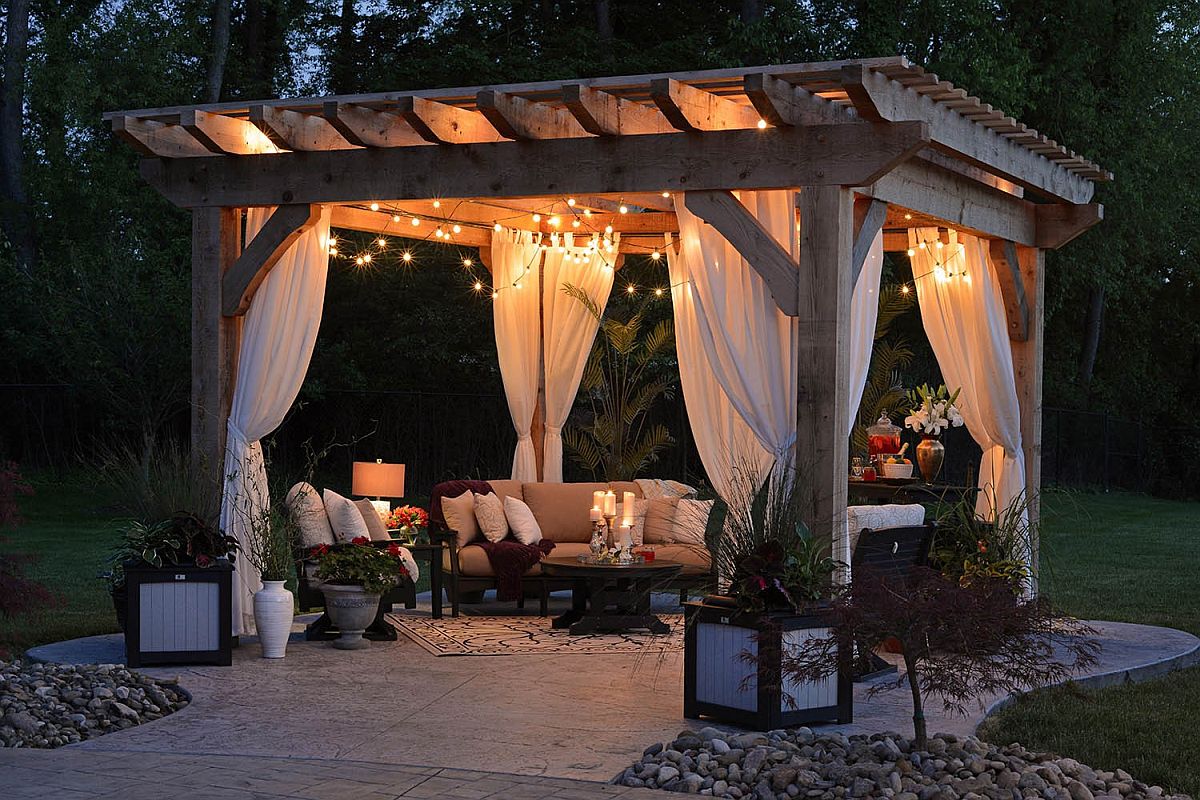 A weatherproof dining table and comfortable chairs are perfect for the dining al-fresco scenario. For smaller spaces, focus on finding a weather-proof bistro set. If you want to spend more time dining outdoors with family and friends in an environment that feels cozy and stylish, you may opt to choose a Fire Pit Dining Table. Its enticing flames provide the perfect centerpiece for any dinner party or celebration.
3. Create a Conversation Area
A conversation area is a great way to create a backyard space that encourages people to gather and enjoy each other's company. If you have an outdoor space that's not big enough for a full-scale outdoor kitchen, you can still create an oasis by adding seating and conversation areas. A small table and chairs are essential, but they aren't enough on their own. You also need to add something else to complete it. 
For example, you may build yourself an organic-looking structure such as a small pergola with wooden slats, or go for something more elaborate like the Bristol Grande Louvered Pergola by Vita, if it fits your style. If the weather is nice enough, consider adding some features that will invite people into your yard—like fire pits or outdoor fireplaces.  Fire pits are a great addition to your backyard. They're not only functional but they can be used as a fun feature that brings people together. 
If your yard isn't big enough for an actual fire pit, consider adding another seating area instead: modular outdoor furniture sets are ideal because they're portable, easy to set up, and can be configured to fit your space. They are modern yet comfortable and are the best place to relax, converse and socialize with friends.
4. Pot Climate-appropriate Plants and Herbs
Creating an outdoor oasis in your backyard is easy if you garden smartly. You have a wide selection of plant choices to add to your patio area to give it a fresh and contemporary style. Select plants that are suited to your climate, particularly those that can adapt to hot, dry conditions or cold weather. Growing a mix of plants will help you create a sense of shade and color.
Choose plants that are easy to grow but don't forget about the soil! If possible, dig up an area where there isn't already any grass or weeds growing so it won't compete with other plants for nutrients from the ground. You should also consider planting edible gardens where possible; this way, you will not only have fresh produce all year, but you will also have compost material.
These plant choices will help you transform your area, depending on the size of your patio or outdoor living area. Not only do potted plants refresh the ambiance, but they also add a decorative, aesthetically pleasing touch to your backyard. With the right plants and herbs, you can create a lush oasis that is full of beauty and flavor all year round. 
Patio Pelican's Takeaway
We're all about the outdoors. We love it, we live for it, and we want to create a space that reflects our lifestyle and personality. Patio Pelican thinks these ideas can help you make your backyard more enjoyable and functional, and turn it into an outdoor oasis. And if nothing else, maybe they will inspire some new ways to spend time outside with family and friends! 
If you're looking for a way to create an outdoor space that is both beautiful and functional, look no further than your backyard. Patio Pelican believes in creating wonderful outdoor spaces that will extend your home by bringing the inside out. We have carefully selected the highest quality products on the market that are both innovative and stylish. We offer an extensive product range, all worthy of helping you in your quest to create your dream outdoor living space. We are proud to supply fire pits, pizza ovens, outdoor kitchen islands, pergolas, and more. 
We are here to help you enhance the look, function, and value of your outdoor living space! 
Related Articles:
---