Fire Pit Media 101: How to Pick the Right Fire Media
Enhancing your outdoor space with a fire pit is an exciting endeavor, but the plethora of media options can make the decision-making process daunting. From the natural warmth of lava rock to the sparkling brilliance of fire glass, the choices seem endless.
In this article, we will demystify the most popular fire pit media choices, providing you with a comprehensive breakdown of their pros and cons so you can make an educated decision that will leave you with a fire pit that perfectly complements your outdoor space and personal taste.
1. Lava Rock 
Lava rock is a versatile and timeless choice for gas fire pits and fireplaces. Born from the fiery depths of the earth, this naturally formed mineral boasts a porous composition that promotes optimal air circulation and heat retention for your gas fire feature. Lava rock is durable and heat-resistant, making it a great option for fire pits.
While its rough and coarse nature may seem intimidating, it can also be tumbled to smooth out its sharp edges, making it a perfect fit for those who appreciate a polished, modern, or transitional aesthetic. As an organic material, each batch of lava rock is unique, offering a range of sizes and colors to choose from. Whether you prefer 6-inch-thick chunks that make for a striking standalone filler or tiny granules that serve as the perfect base layer for fire stones, fire shapes, and gas logs, lava rocks offer a wealth of possibilities for creating a truly one-of-a-kind fire feature.
However, there are also some downsides to using lava rock in your fire pit. One of the biggest drawbacks is that lava rock can easily become covered in soot and ash, which can make your fire pit look dirty and unkempt. Additionally, lava rock can be prone to cracking and chipping, which can make it less durable over time.
2. Fire Glass
Fire glass is another popular option for fire pits, and it has become increasingly popular in recent years. It is a stunning and versatile media that can add a touch of elegance to any gas fire feature. Made from tempered glass that has been heat treated, this translucent, jewel-like material is designed to radiate heat without ever melting, discoloring, or producing smoke. The variety of colors, styles, shapes, and sizes available make it easy to find the perfect option for your space, and it's often used as an alternative to traditional fire pit media like lava rock.
Reflective-coated options offer a mesmerizing luster and panache, while broken and diamond edges add a unique texture to the flames. Whether you're looking to add a modern touch to a gas fire pit or fireplace, fire glass is a great choice that won't clutter up the burner.
However, there are also some downsides to using fire glass in your fire pit. One of the main drawbacks is that fire glass can be relatively expensive compared to other fire pit media options. Additionally, fire glass is a man-made material, which means it may not blend as well with a natural outdoor setting.
3. Pebbles and Stones
When it comes to creating a fire pit that seamlessly blends with the natural beauty of your backyard, pebbles and stones are the perfect choice. These earthy elements can provide a rustic and natural ambiance that perfectly complements a heavily landscaped outdoor space. Not only are pebbles and stones visually appealing, but they are also incredibly budget-friendly and easy to find. So, whether you're looking to add a touch of natural charm to your fire pit or simply want an affordable and practical option, pebbles and stones are an ideal choice.
Pebbles and stones are also durable and heat-resistant and can withstand even the most robust of fires. Additionally, the endless possibilities of colors and sizes allow for endless creativity, creating a unique and visually striking design and a truly unique and personalized fire pit. Whether it's a rustic or modern look you're going for, pebbles and stones are sure to elevate the overall aesthetic of your outdoor space.
However, there are also some downsides to using pebbles and stones in your fire pit. One of the main drawbacks is that they can be difficult to clean and maintain. The small size of the pebbles and stones can make it challenging to remove all the ash and soot, and they may need to be replaced more frequently than other fire pit media options. Additionally, pebbles and stones can be prone to shifting and moving, which can make it difficult to keep your fire pit looking neat and tidy.
4. Ceramic Balls
Ceramic balls are the perfect addition to your fire pit. Not only are they small and lightweight, but their heat-resistant properties make them ideal for use in flames. One of the standout benefits of using ceramic balls is their ease of maintenance and cleaning. Being non-porous, they don't absorb ash or soot, leaving you with less frequent cleaning and upkeep. Furthermore, the durable and long-lasting nature of ceramic balls makes them a great investment for your fire pit, providing you with a reliable and functional addition for many fires to come.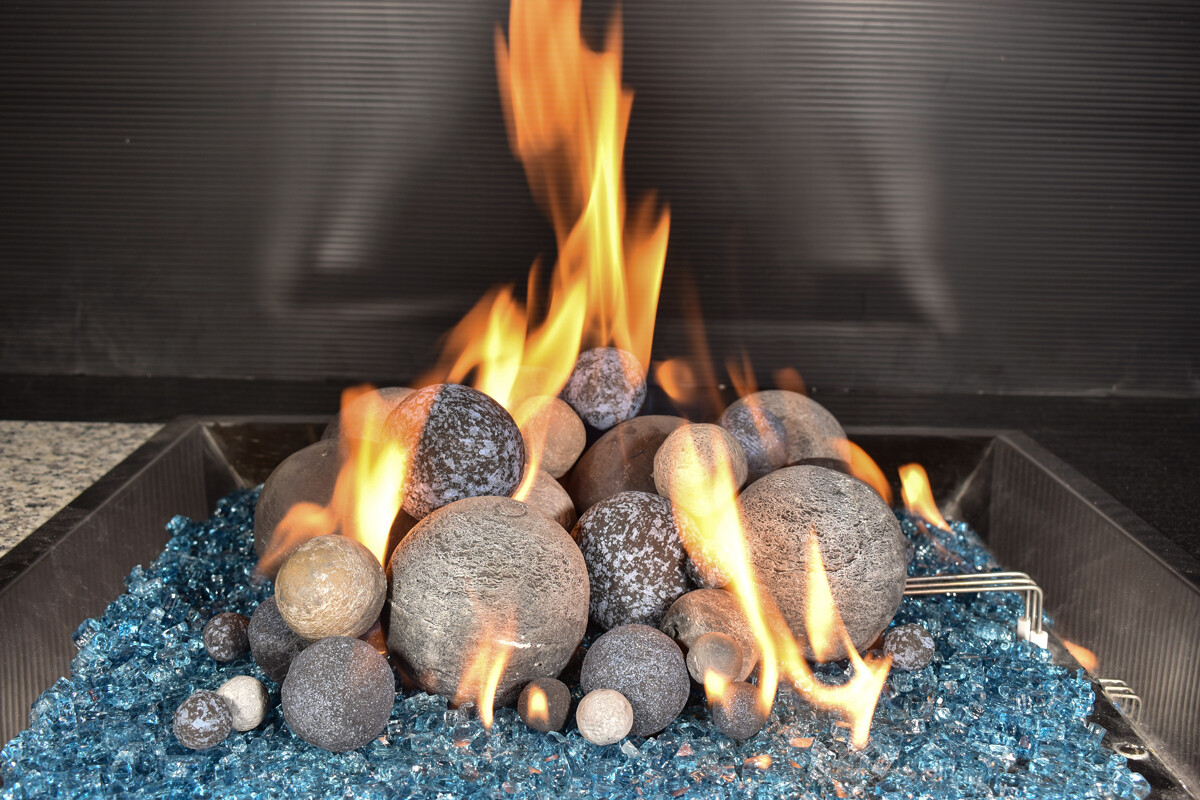 With a wide range of colors and sizes to choose from, you have the freedom to create a visually stunning and dynamic fire pit that will be the focal point of your outdoor living space. The reflective properties of ceramic balls also add to the overall ambiance, creating a mesmerizing and beautiful effect as the flames dance and flicker.
Despite the many benefits of incorporating ceramic balls into your fire pit, it's important to consider the potential downsides as well. One of the most notable is the cost factor; ceramic balls tend to be more expensive than other types of fire pit media options, such as natural stones or metal balls. This may make them less accessible for some individuals or households on a budget. However, it's worth noting that the durability and longevity of ceramic balls may ultimately make them a more cost-effective choice in the long run.
5. Crushed Glass
Introduce a splash of color and a touch of sustainability to your fire pit with crushed glass. This unique fire pit media is crafted specifically for use in outdoor fire pits and is available in a wide array of hues and sizes. Instead of opting for traditional fire pits materials like lava rock or fire glass, consider using crushed glass for its eco-friendly and sustainable benefits. Made from recycled glass, this fire pit media not only reduces waste but also helps conserve natural resources. It's also easy to clean and maintain, making it a convenient choice for fire pits.
There are a few downsides to using crushed glass as a fire media in a fire pit. One downside is that the glass can become very hot and can cause burns if touched. Additionally, the glass can become sharp as it breaks down over time, making it dangerous to handle. Another potential downside is that the glass may not be suitable for all types of fire pits and may require special care to maintain.
6. Gas Logs
The warmth and ambiance of a fire have been a beloved tradition for centuries, and modern technology has allowed us to bring that comforting experience into our homes with gas logs. Whether it's the crackling of a campfire surrounded by nature or the cozy glow of a hearth in a cabin, gas logs offer the perfect blend of traditional style and modern convenience. 
The detailed design of gas logs provides an authentic look of wood logs without mess and maintenance. Unlike real wood-burning logs, gas logs do not burn or emit ash or embers as they are typically made from ceramic or concrete. However, it's worth noting that soot marks may be more visible on lighter-colored options like white birch. Overall, gas logs are a tried and true option for adding warmth and charm to any gas fire pit or fireplace.
However, gas logs typically provide a set flame height, which can make it difficult to adjust the flame intensity to your desired level. It may not also produce as much heat as a traditional wood-burning fire pit, which can limit its usefulness during colder months. Additionally, gas log fire media is typically more expensive than traditional wood-burning fire pits, which can make it less accessible for some homeowners.
Patio Pelican's Takeaways
At Patio Pelican, we understand that everyone has their own unique taste and style when it comes to fire media. Whether you're drawn to the sleek and contemporary look of fire glass, ceramic balls, or crushed glass or prefer the rustic and natural feel of lava rock, pebbles, stones, and gas logs, we have a wide variety of options for you to choose from. 
However, if you're still unsure of which fire media would best suit your needs, we're here to help. Our team of experts is always available to assist you through our Contact Us Form, or by emailing us at hello@patiopelican.com. You may also give us a call at 737 259 5111. 
We're dedicated to ensuring that you find the perfect fire media to complement your space and meet your aesthetic preferences.
---